PC game joins iOS/Android versions on Thursday
---
Crunchyroll Games announced on Thursday that it will launch Aiming's The Eminence in Shadow: Master of Garden (Kage no Jitsuryokusha ni Naritakute! Master of Garden) game — inspired by Daisuke Aizawa's The Eminence in Shadow (Kage no Jitsuryokusha ni Naritakute!) light novel series — for PC on Thursday at 8:00 p.m. EDT. The PC version will feature cross-platform play and progression with the iOS and Android versions.
The game will feature a half-anniversary event from May 18-June 8.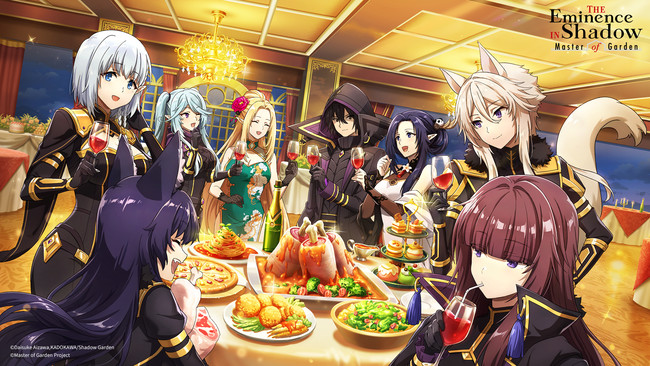 Crunchyroll Games released the game for iOS and Android devices on November 29.
The first season of the television anime of Daisuke Aizawa's The Eminence in Shadow (Kage no Jitsuryokusha ni Naritakute!) light novel series premiered in October 2022, and it ended on February 15.
The anime is getting a second season. HIDIVE will stream the anime. The main staff is returning for the second season at the studio Nexus.
HIDIVE streamed the first season, and it describes the story:
Some people just aren't suited to playing the part of the flashy, in-your-face hero or the dastardly, mustache-twirling villain with larger-than-life panache. Instead, they operate in the shadows and pull the strings of society through wit and cleverness. That's the role Cid wants to play when he's transported to another world. Cid spins a yarn or three and becomes the unlikely leader of the underground Shadow Garden organization that fights against a menacing cult (which he totally made up). However, there's a catch even his wild imagination didn't see coming: the cult he concocted actually exists, and they're beyond displeased that his power fantasy just got in the way of their evil plans!
Kazuya Nakanishi (chief animation director for Darwin's Game) directed the anime at Nexus (Darwin's Game, Granbelm). Makoto Iino (Suppose a Kid From the Last Dungeon Boonies Moved to a Starter Town, Demon Lord, Retry!) adapted Tōzai's original character designs for animation. Kanichi Katou (Black Clover, Those Snow White Notes) oversaw the series scripts. Kenichiro Suehiro composed the music.
Source: Press release
---
Disclosure: Kadokawa World Entertainment (KWE), a wholly owned subsidiary of Kadokawa Corporation, is the majority owner of Anime News Network, LLC. One or more of the companies mentioned in this article are part of the Kadokawa Group of Companies.
---