Meet Baylee, Nimbus, Jasmine, Mira, and Barty
---
The San Francisco bay area's Bay Area Rapid Transit (BART) system unveiled five anime mascots, debuting at Northern California's FanimeCon convention this weekend. BART staff will physically attend the event to unveil the new mascots and distribute merchandise, promotional tickets, collectible postcards, and other miscellany.
BART is also previewing postcard art featuring the above mentioned mascots, along with Barty, the "friendly companion," in the bottom-right corner.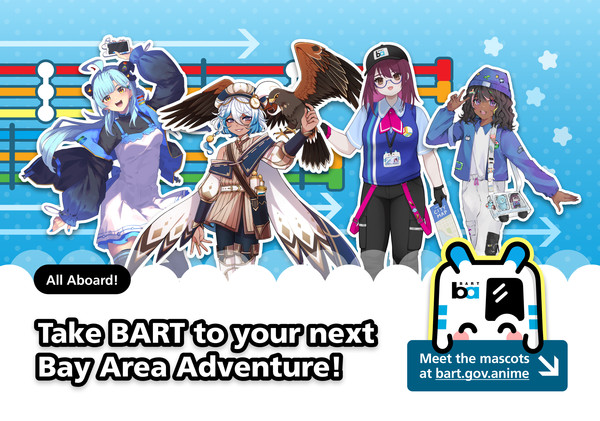 BART describes the new mascots as the latest in its "concerted efforts to meet young Gen Z riders – a growing and reliable ridership demographic since the pandemic – where they are and fostering the next generation of transit riders, advocates, and enthusiasts."
BART Communications put out an open call for California-based artists to submit a series of original anime mascots last summer. The open call received nearly 500 submissions. The project credits illustrators yokura, niaro, tofubuns, rolleybun, and melody for the designs.
FanimeCon will take place from May 26 to 29 at the McEnery Convention Center in Downtown San Jose.
Source: Press Release
---